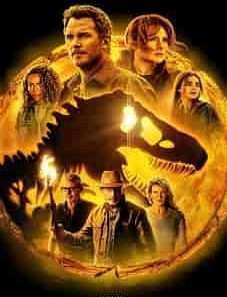 Title:- Jurassic World Dominion 2022
Directors: Colin Trevorrow
Writers: Emily Carmichael, Colin Trevorrow, Derek Connolly
Cast: Chris Pratt, Bryce Dallas Howard, Laura Dern
Genre: Films 2022 | Action, Adventure, Sci-Fi
Rating: 6.4/10
Synopsis: Jurassic World Dominion 2022 starts with dinosaurs having invaded the human world following the events of Jurassic World Fallen Kingdom on Isla Nublar. Nature has established a new order, and no one looks up when a stegosaurus goes by. Owen Grady and Claire Dearing dwell in the woods to guard Maisie Lockwood, the granddaughter of John Hammond's business associate Benjamin Lockwood. When she is kidnapped, a race against the clock begins to liberate her. Meanwhile, Ellie Sattler investigates the sinister plans of Biosyn Corporation, enlisting the assistance of Alan Grant, who is assisted by Ian Malcolm. Millions of people are using the LookMovies website so you can also use it freely.
---