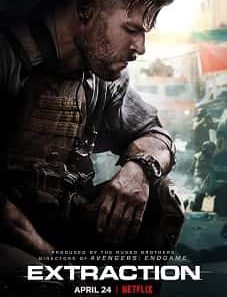 Directors: Sam Hargrave
Writers: Joe Russo
Cast: Chris Hemsworth, Golshifteh Farahani, Rudhraksh Jaiswal
Genre: Film 2020 | Action
Rating: 6.9/10
Descriptions: In this movie, the young son of a drug dealer is kidnapped by man's rivals, who intend to humiliate and ruin him. All that remains is to attempt a difficult extraction operation and for this, we turn to a mercenary who operates on the black market: Tyler Rake, who is currently relaxing in Australia, in the Kimberley region. He appears to be on the verge of alcoholism and a psychological chasm, but his collaborator Nik Khan convinces him to get back on his feet to accept the assignment. But things are going badly soon and Tyler, with the boy in tow, will find himself hunted and trapped in the populous metropolitan labyrinth of Dhaka, the capital of Bangladesh.
---