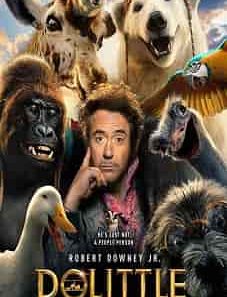 Directors: Stephen Gaghan
Writers: Stephen Gaghan, Dan Gregor
Cast: Robert Downey Jr., Antonio Banderas, Michael Sheen
Genre: Film 2020 | Adventure, Comedy, Family
Rating: 5.6/10
Descriptions: The movie tells the story of Dr. Dolittle (Robert Downey Jr. He was once a famous doctor and veterinarian, but when he lost his wife seven years ago, he completely retired. Now he lives alone in the high walls of his property, almost without contact with other people. Only his animals, with which the doctor can even speak, keep him company. These animals support Dolittle with advice and action, the cynical ostrich Plimpton (Kumail Nanjiani) or the always freezing polar bear Yoshi (John Cena). When young Queen Victoria (Jessie Buckley) falls seriously ill, Dolittle has no choice: he has to go out into the wide world to find the cure. But for that, he has to find that mysterious island.
---