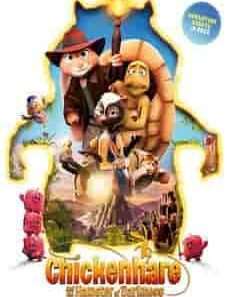 Title:- Chickenhare and the Hamster of Darkness 2022
Directors: Ben Stassen, Benjamin Mousquet
Writers: David Collard
Cast: Danny Fehsenfeld, Joe Ochman, Jordan Tartakow
Genre: Films 2022 | Animation, Adventure, Comedy
Rating: 6.5/10
Synopsis: Chickenhare and the Darkness Hamster The year is 2022, and a young hero who is half chicken and half hare aspires to be like his father, the legendary hare adventurer King Peter. The film opens with King Peter describing Chickenhare how he discovered him. While searching for the hamster of darkness, Peter came upon a strange infant left alone in a boat and adopted him. King Peter informs his kid that his uniqueness is what makes him remarkable. But Chickenhare doesn't want to stand out; he simply wants to blend in. When Chickenhare's trickster uncle escapes from jail with a plan to destroy King Peter, he embarks on his own adventure to be the first to discover the hamster of darkness. From classics and new ones Look movies website has unlimited content ti watch without any fees.
---